Family Life Center
God has richly blessed our church with a beautiful facility in which to minister to our members and community. We welcome everyone to join us at our Family Life Center for activities, exercise, and ministry. Call the church office for more details or stop by during our operating hours.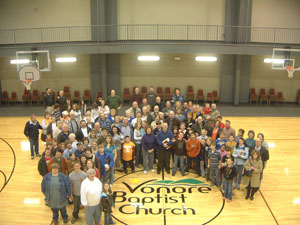 Family Life Center Hours
Monday: 8:00 am - 5:30 pm
Tuesday: 8:00 am - 5:30 pm
Wednesday: 8:00 am - 5:30 pm
Thursday: 8:00 am - 5:30 pm
Friday: 8:00 am - 5:30 pm
Closed Saturday
Closed Sunday due to services
Many activities are consistently available in the Family Life Center. Become part of our Coffee Club or simply walk the Prayer Mile.

We will begin aerobics classes in the Family Life Center every Monday, Wednesday, and Friday at 10:00 a.m. Anyone who is interested is invited to participate. The classes are open to the public and will be conducted by "Get With It", a non-profit community outreach program designed to increase awareness of, and encourage healthy lifestyles. The classes are FREE and all instructors are certified and insured.Come and join in!