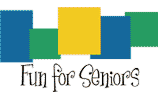 The Senior Adult Ministry is an exciting and fun group. Vonore Baptist Church Seniors are always active with monthly day trips, theater, shopping, eating or just generally having a good time.
Field of Woods Trip

Joseph and The Amazing Technicolor Dreamcoat

Myrtle Beach...Here We Come!
Every September Vonore Seniors take a trip to Myrtle Beach, SC and have a wonderful time!